Edition Hammeraue: »Lentikularium« 2015 & 1394

Ein Kalender mit Illustrationen von 6 iranischen & 6 deutschen Illustratoren.
Der Kalender ist für das europäische Jahr 2015 & das iranische Sonnenjahr 1394 - Der Kalender erscheint Ende Ausgust 2014.
Das Besondere an diesem Kalender: Auf jeder Seite gibt es einen Lentikulardruck! Das heißt, es gibt auf jeder Seite einen bewegten Teil.

An calendar of 6 Iranian and 6 German illustrators.
The calendar is for the europaen year 2015 and the iranian sun year 1394! The calendar will be released in August 2014.
The very special feature of this calendar: All pages have a lenticular print on it! That means there is a moving part on each page.
Das Video zeigt den Wechsel des Illustration auf dem Lentikular-Teil. Ausschnitt aus der Illustration von August/ Tom Eigenhufe.
Der ganze Film ist >hier.
This video shows the lenticular print changing shapes. Part of August of Tom Eigenhufe below.
See the whole teaser movie >here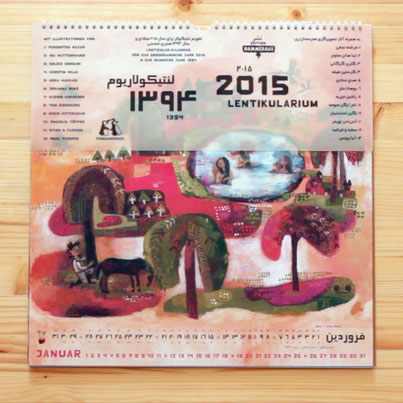 0 - Titelseite mit Transparentpapier - der Lentikulardruck ist davon halb verdeckt.
Front page with transparent/opaque paper - lenticular print half covered by opaque paper.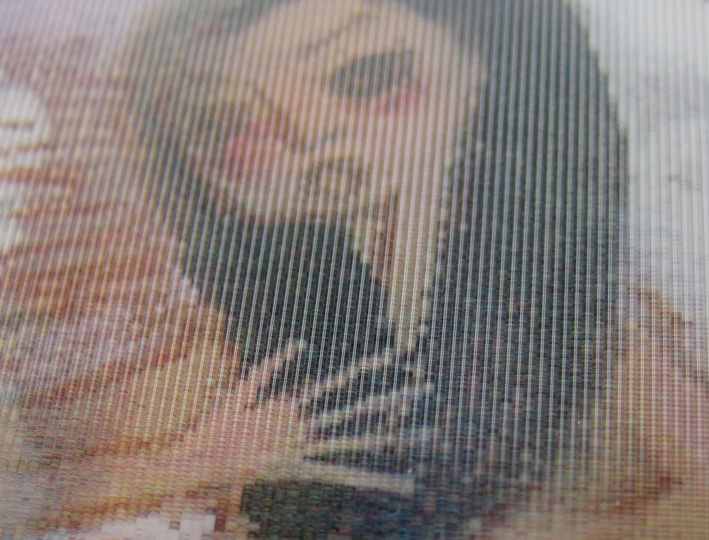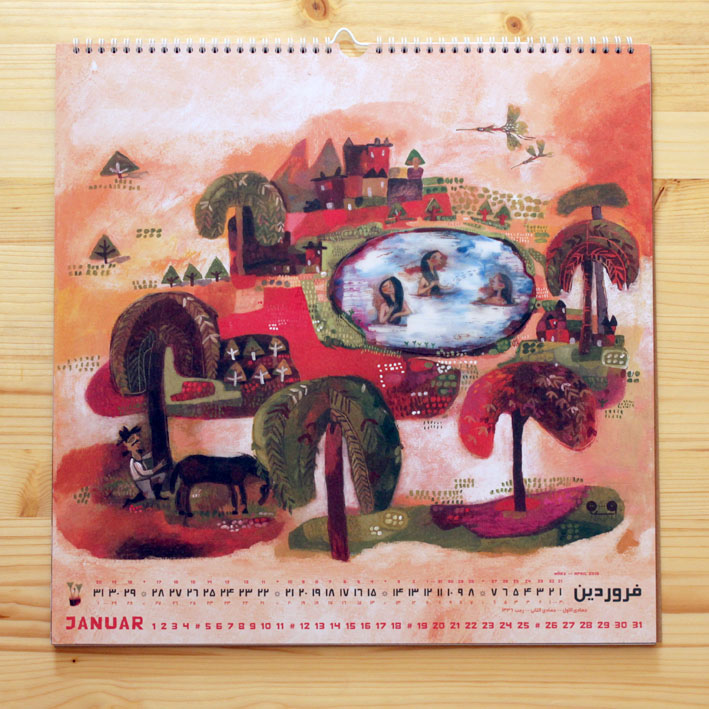 1 - Fereshteh Najafi: Girls will move in the lake - Mädchen bewegen sich im See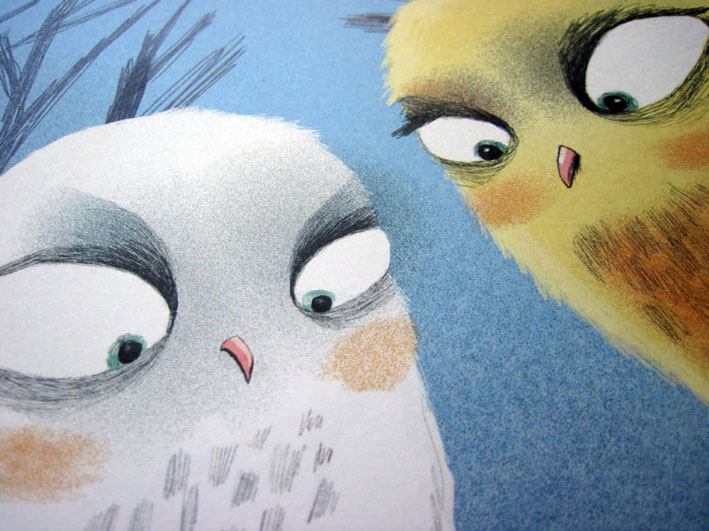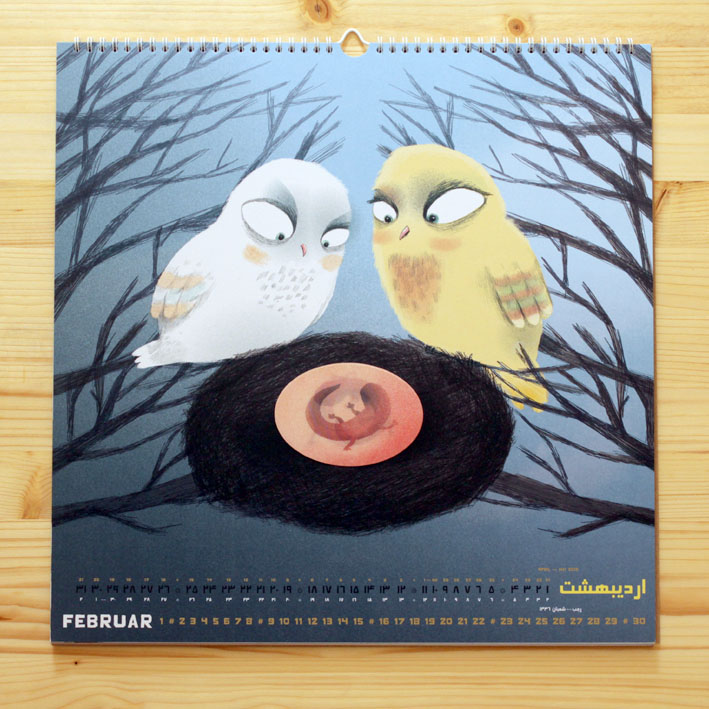 2 - Ina Hattenhauer: there will be moving animals in the egg - Im Ei läuft ein Salamander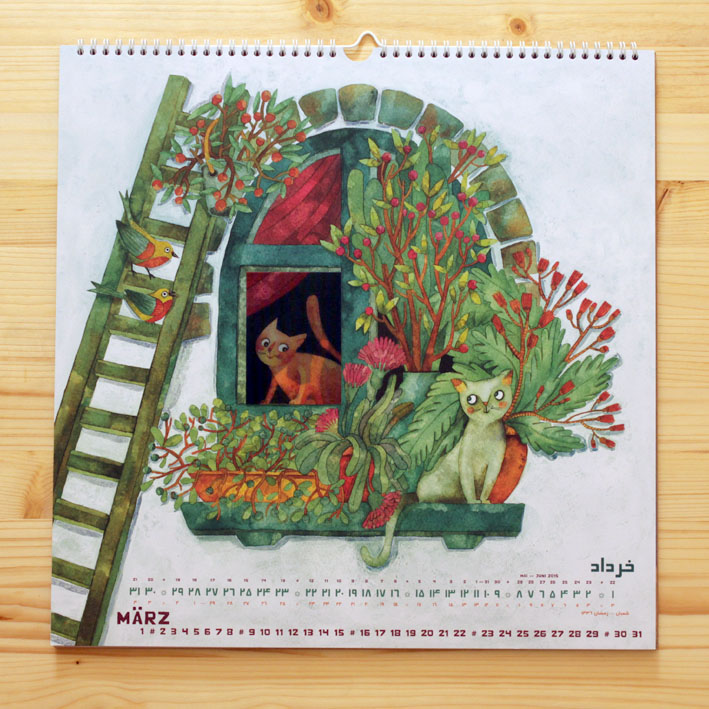 3 - Golriz Gorgani: Cat will move in window - Die Katze bewegt sich im Fenster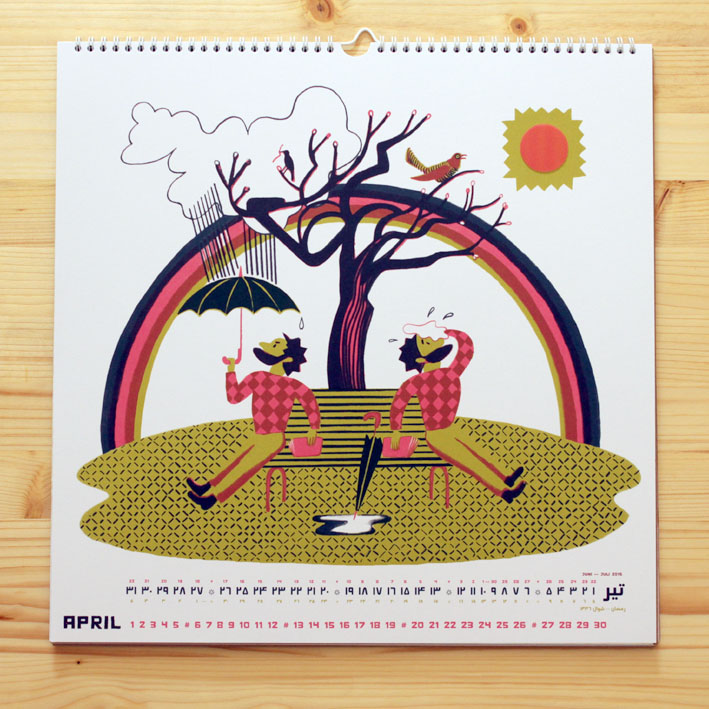 4 - Kerstin Hille: sun will change coloures - Die Sonne wechselt die Farben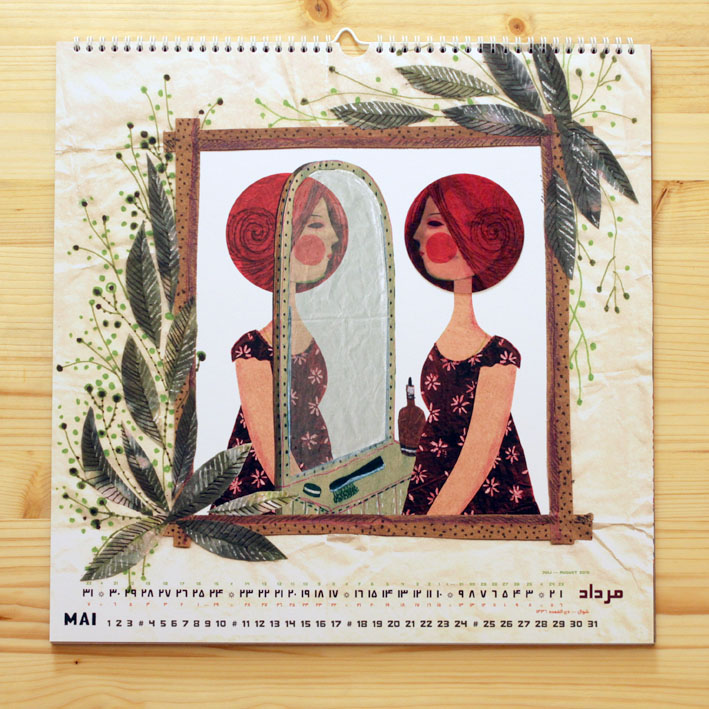 5 - Hoda Haddadi: The girls head on the right will move - Der rechte Kopf des Mädchens bewegt sich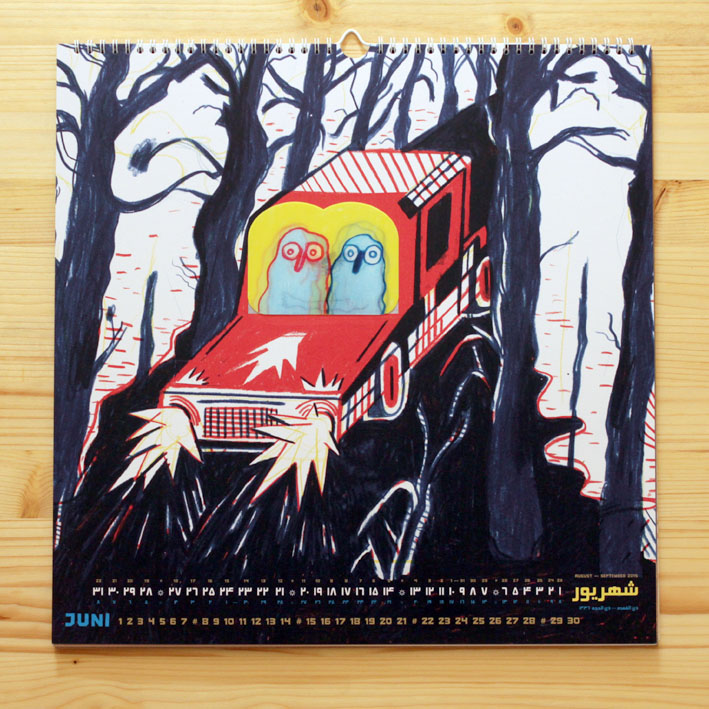 6 - Johanna Benz: Gohsts will kiss - die Geister Küssen sich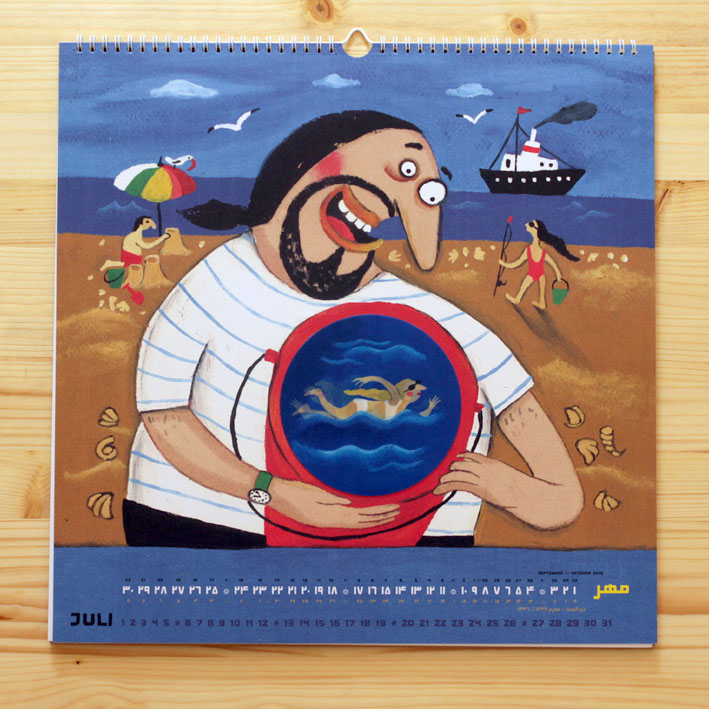 7 - Rashin Kheiriyeh: Girls will swim - Das Mädchen im Eimer schwimmt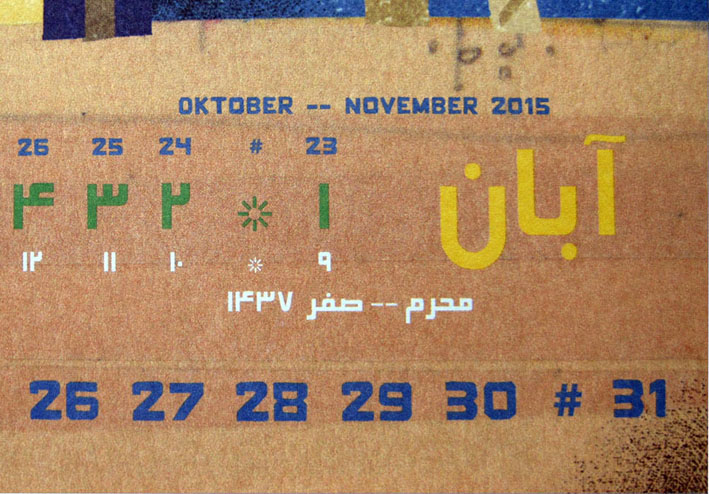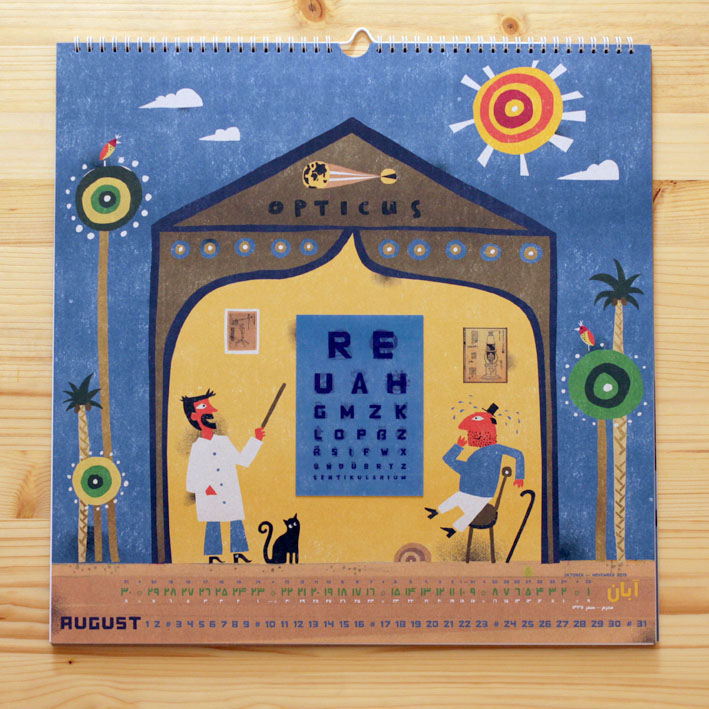 8 - Tom Eigenhufe: Letters will change to faces - Die Buchstaben ändern sich in Fratzen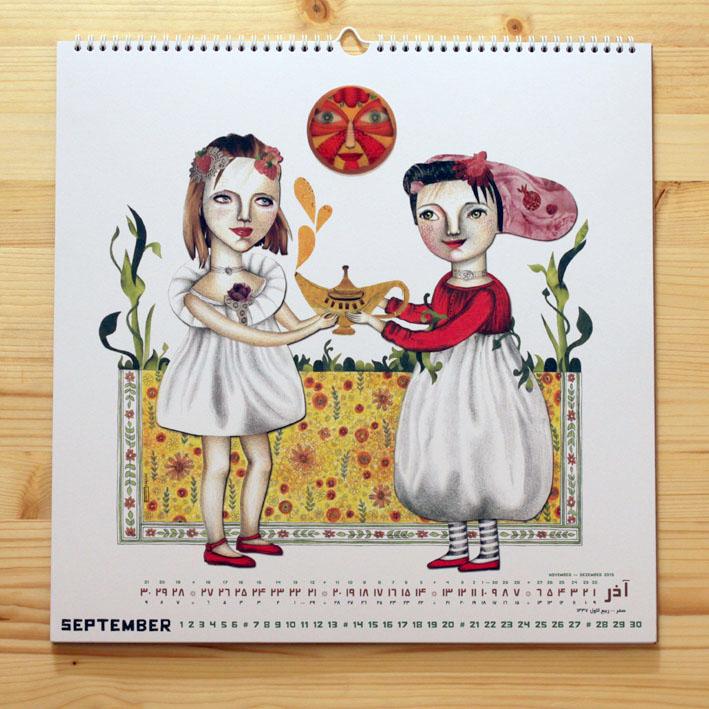 9 - Negin Ehtesabian: face of gost will change - Das Gesicht des Flaschengeistes ändert sich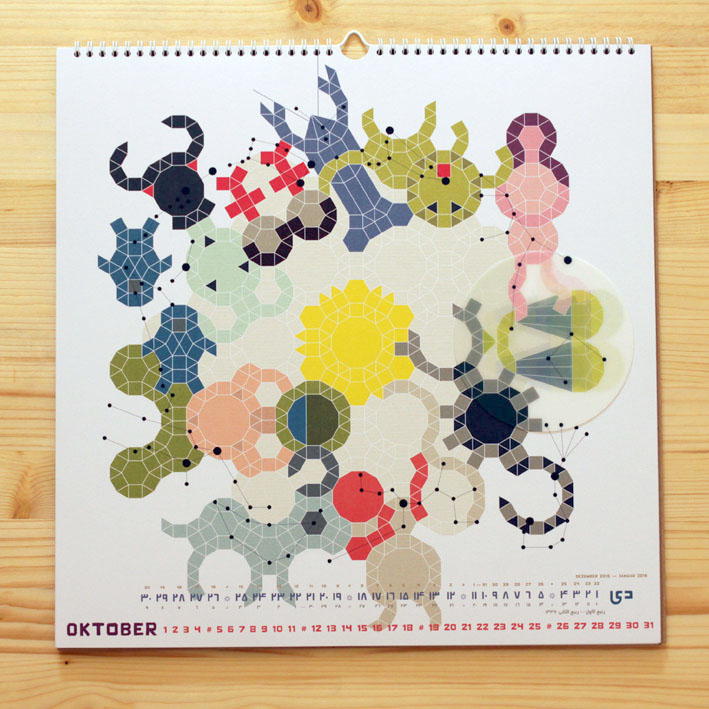 10 - Andreas Töpfer: starsign will move - Die Waage bewegt sich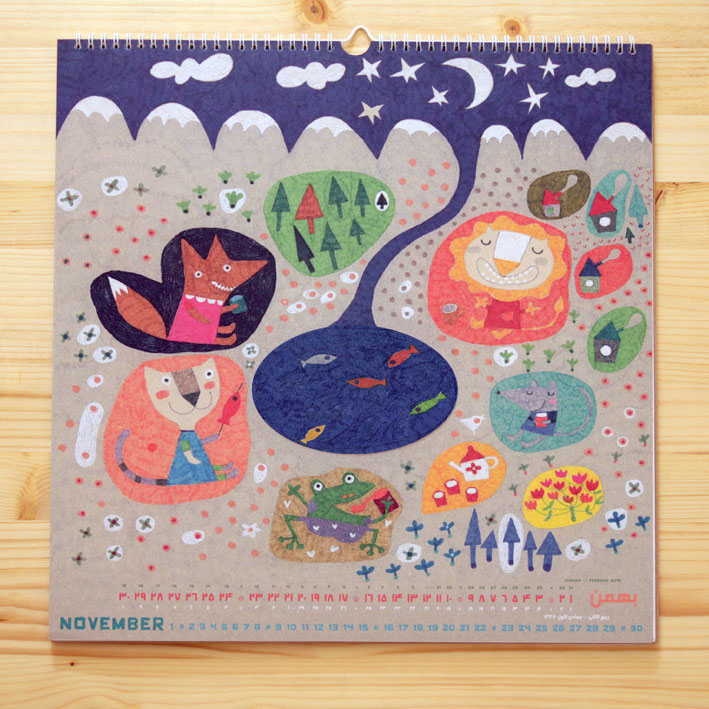 11 - Atieh Bozorg Sohrabi: face in lake and fishes will move - das Gesicht im See taucht auf & Fische schwimmen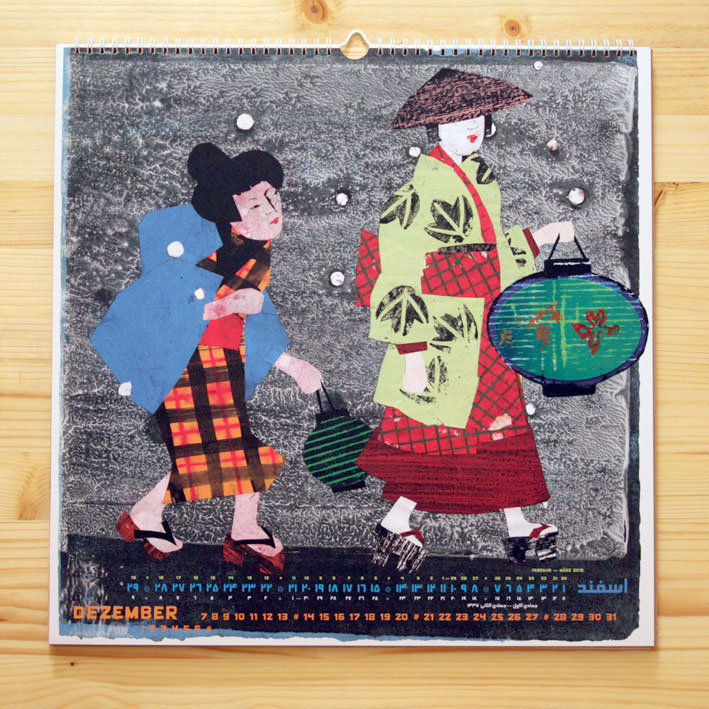 12 - Anja Tchepets: Lampion will be changeing the light - Das Licht im Lampion ändert sich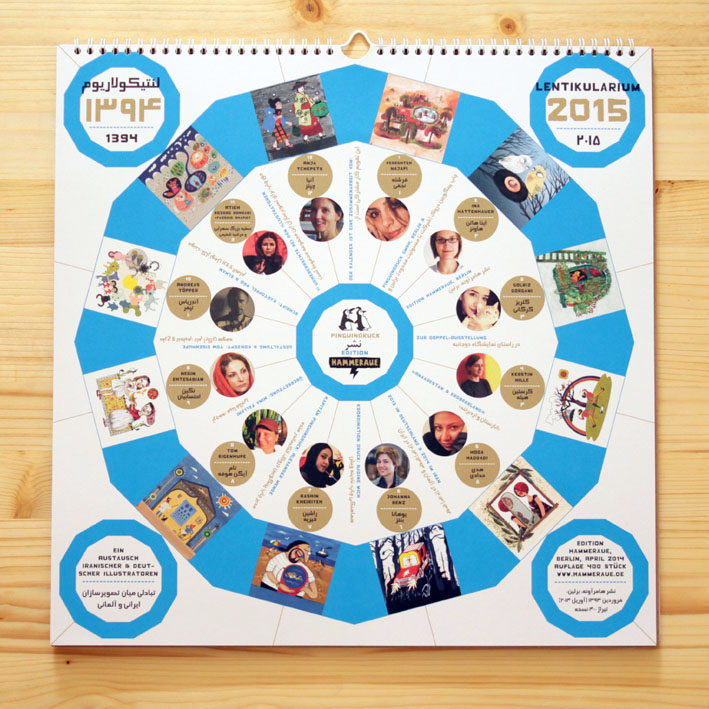 14 - Impressum/Bio or alternativ front page - alternative Titelseite mit Infos zu den Illustratoren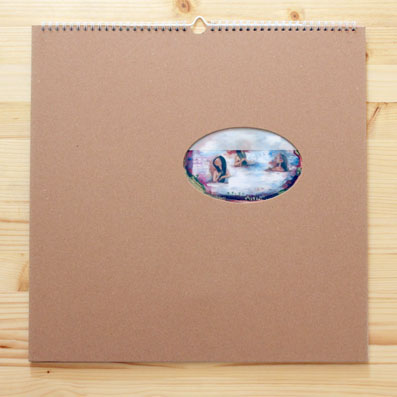 X - Calendars comes with front page cover - lenticular print stil visible
Kalender wird mit Abdecktitel geliefert - der Lentikulardruck bleibt sichtbar


Edition Hammeraue: Lentikularium 2015 & 1349

Illustratoren - 6x aus Iran & 6x aus Germany:
Fereshteh Najafi, Golriz Gorgani, Hoda Haddadi, Rashin Kheiriyeh, Atieh Bozorg Sorobi, Negin Ehstesabian
Johanna Benz, Andreas Töpfer, Anja Tchepets, Tom Eigenhufe, Kerstin Hille, Ina Hattenhauer

40 cm x 40 cm - 950 g
Offset mit Lentikulardrucken. Exklusive Auflage von 400, davon nur 200 zum Verkauf
Offset print with Lenticular prints. Exclusive edition of 400, but only 200 for selling
Sprache/Language: Deutsch & Farsi

50,- Euro - Infos zum Kauf hier/ Selling info here.

Der Kalender ist ein Nachfolge-Projekt der Doppelausstellung »Anaarestan & Erdbeerland«
www.hammeraue.de/anaarestan
www.hammeraue.de/erdbeerland

About the publisher - Mehr zum Verlag: www.hammeraue.blogspot.de
Edition Hammeraue (& Verein Hammeraue e.V) bei: Facebook